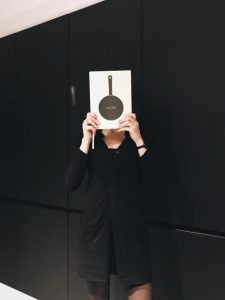 It's only quite recently I got to know Ottolenghi's cuisine. A few years ago a friend told me he had this amazing cookbook 'Nopi'. Since I love cooking I just had to get my hands on this book. A few weeks later it was my birthday.. The perfect gift. I got it from my brother.
I had some cooking experience – that year I got my sous-chef diploma – but this book opened up a whole new world for me. Herbs and other ingredients I had never heard of. Not 3 or 4 ingredients per dish, but up to maybe 15! Quite challenging.
The first dish I made was de twice cooked baby-chicken. I spent 3 days making it (ok, not the whole 3 days, the chicken had to marinate a day :0)   But oh my, those flavours. I had never tasted anything like this before. So intense, so good, so perfectly right. And that's where it all began. I'm a big fan now of Ottolenghi's dishes, I especially like to cook from the Nopi-cookbook. A bit more complex, but sooooooooo good.