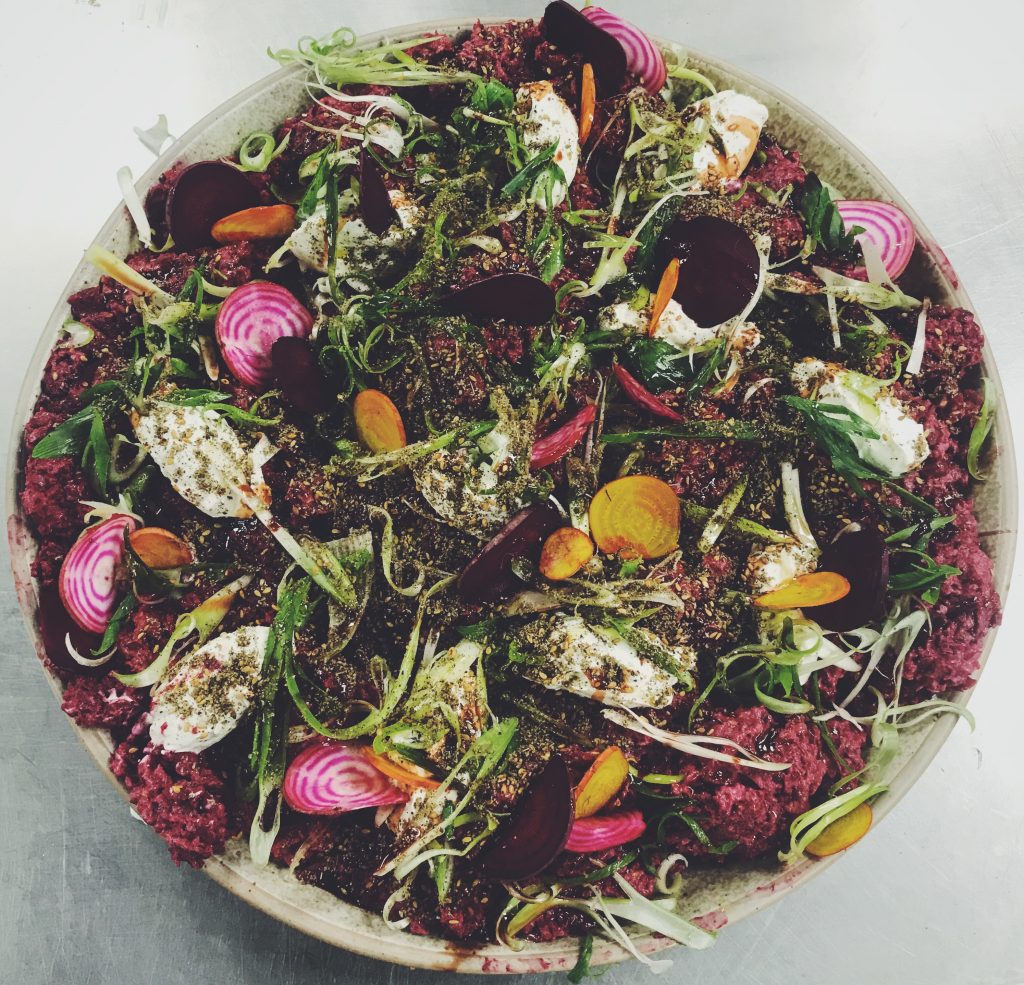 I started my day having breakfast in the sun. Then I went to Regent Park where I just chilled in the grass. Tough life… :0p

Bought lunch, did a little siesta in my apartment and headed to Nopi, wondering what my second shift would bring. Can you tell I'm more relaxed? :0)
I finally figured out what's the shortest way to Nopi, without circling 3 or 4 times around my building block, so I got there early. To kill the time I circled a few times around the Nopi block :0D
When I entered the kitchen, head chef Carlos welcomed me. Although I had googled him :0) I didn't recognize him at first (whoops).
He's very kind and friendly. I felt instant comfortable. He explained some things, told me what I'm going to do the next 10 days and then we talked a bit. Apparently he's a friend of Marcelo Ballardin, the chef of Oak, my absolute number 1 restaurant. Carlos promised him a several times he'd visit him, but it's difficult planning with his little girl. But now he promised me he will actually plan a trip, and maybe we could meet in Ghent. Sounds great, don't you think?
Today I assisted Adam in the larder section, where they prepare the cold dished: salads, starters, etc…

We started plating 4 huge salads, the ones they keep upstairs and catch your eye when you enter Nopi.
I started with the aubergine salad: I ranged the roasted aubergines on a huge platter and then 'splashed' fetayoghurt on it. I can't find a better word to describe this :0)  : I used a big spoon with some holes in it and then tapped it with my hand so that the yoghurt spattered on the aubergines. Then I did the same with the pesto, sprinkled the plate with some pomegranate and covered it with coriander leaves.
For the second salad I formed some 'crushed beetroot mountains' with my hands, topped it with labneh quenelles and finished it with colorful beetroot slices, spring onions and grains of paradise. I like this one the most. It's sooo beautiful, like spring on a platter.
For the third salad I made a 'mountain' of green beans and hispy cabbage. I like the crunchiness of the beans, and the sour/spicy taste of the pickles.
The last plate is the one with well spiced cauliflower, finished with cherries and coriander leaves. I just had to toss everything, put it on a plate and make it look pretty. Easy ;0)
Roasted aubergine, feta yoghurt,
pomegranate jam, green chilli


Cauliflower, celery, sour cherries,
smoked almond

Crushed beetroot, labneh,
grains of paradise
When we were ready doing this, it was already time for the first shift. We didn't have the time to 'practice' the entrees, so I learned it just by doing it in the heat of the moment.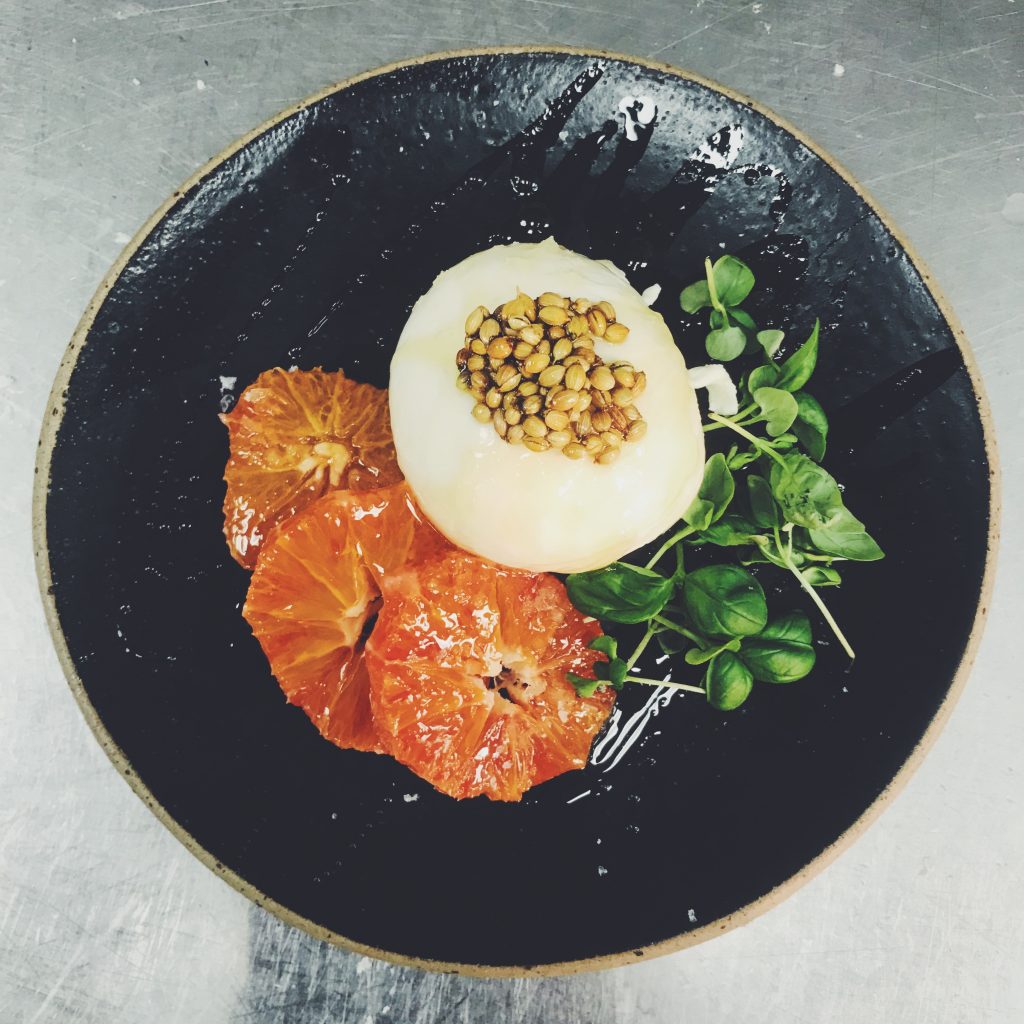 The burrata is by far the most ordered entree. I have no idea how many of these I made, but it's a lot!
My favorite entree to make ánd to eat is the tomato salad with ajoblanco (a sauce of almonds): sweet tomatoes, spiced up with some salt, vinegar and olive oil, amazing almond sauce, topped with mojama (dried tuna) and finished with small onion rings and sparkling shiso flakes (sooooo beautiful!!).
Other entrees or side dishes I had to present were Bitter leaves with citrus, green chili and a strong yuzu kosho sauce and Kohlrabi with apple, sour cream, sumac.
The most easy snack to serve is the Mixed seed lavosh, smoked mint labneh. I am a 'snack girl'. I'm a big fan of the lavosh :0)
I loved making up these plates. The result was so pretty. Very satisfying :0)
And Adam complimented me several times on my presentation skills. Yay!
While in de pastry section it's all about timing (remember the melting ice cream?), in the larder section it's all about presentation (and also timing of course, but it can't melt. You just don't want people waiting for their entree). It has to taste good and look beautiful, in a minimum of time.

Another very important lesson every chef needs to know is to taste what you serve.  Hear e.g. there is a specific dressing that tastes really harsh, you don't want to use too much of it. Taste until the flavors are perfect!
Yesterday I wrote I was amazed about how the chefs hear, understand and remember what they have to do. Well… today I learned it myself. Actually it is not that difficult. I call it 'selective hearing': the chefs all have a limited selection of dishes they make. The chef who shouts the orders – there must be a name for that, but right now I have no idea. I'll figure it out :0) – always call them in the same order. So after a while you really get used to this and know what you have to do.
Time to get ready for my next shift!