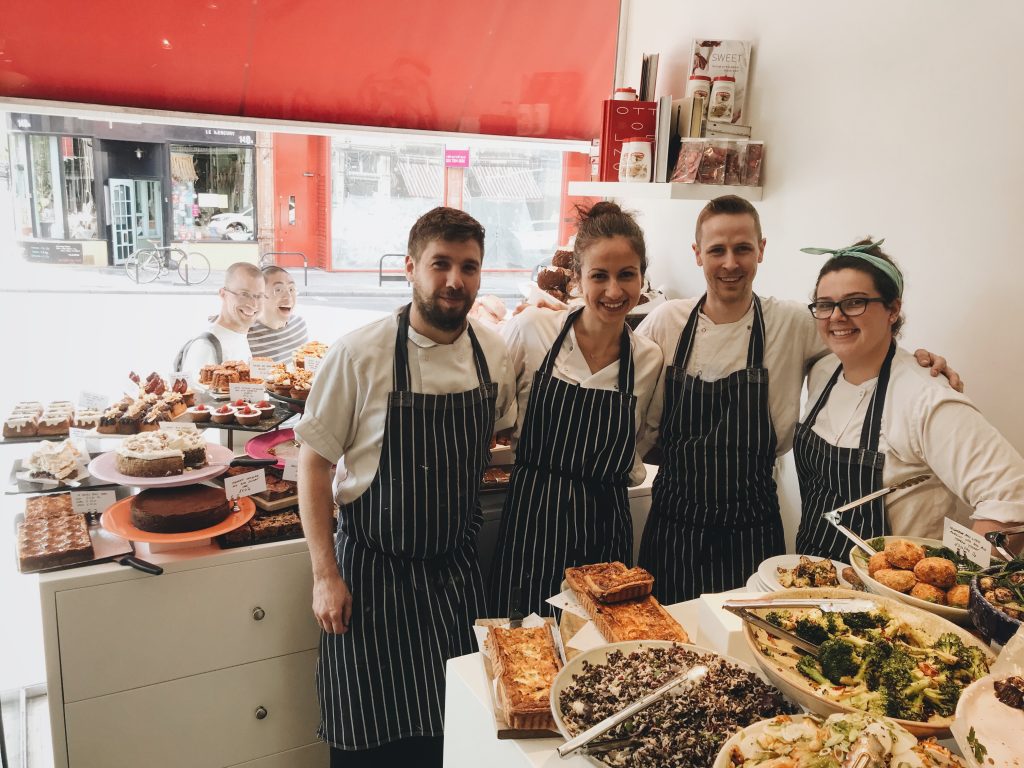 Today I had another day off from my Nopi-stage. My very first plan was to have a nice goodbye breakfast with Kjell and then explore London on the other side of the river. But I wouldn't be me if I didn't have another 'yolo' calling.
Today I helped Jens Ferdinand and his team in the pastry section of Ottolenghi Islington. You already read how this happened. But this meant I had to have a quick breakfast with Kjell and leave him behind, all alone in London :0( (don't worry, it was just for one hour, as he had to catch the train pretty early).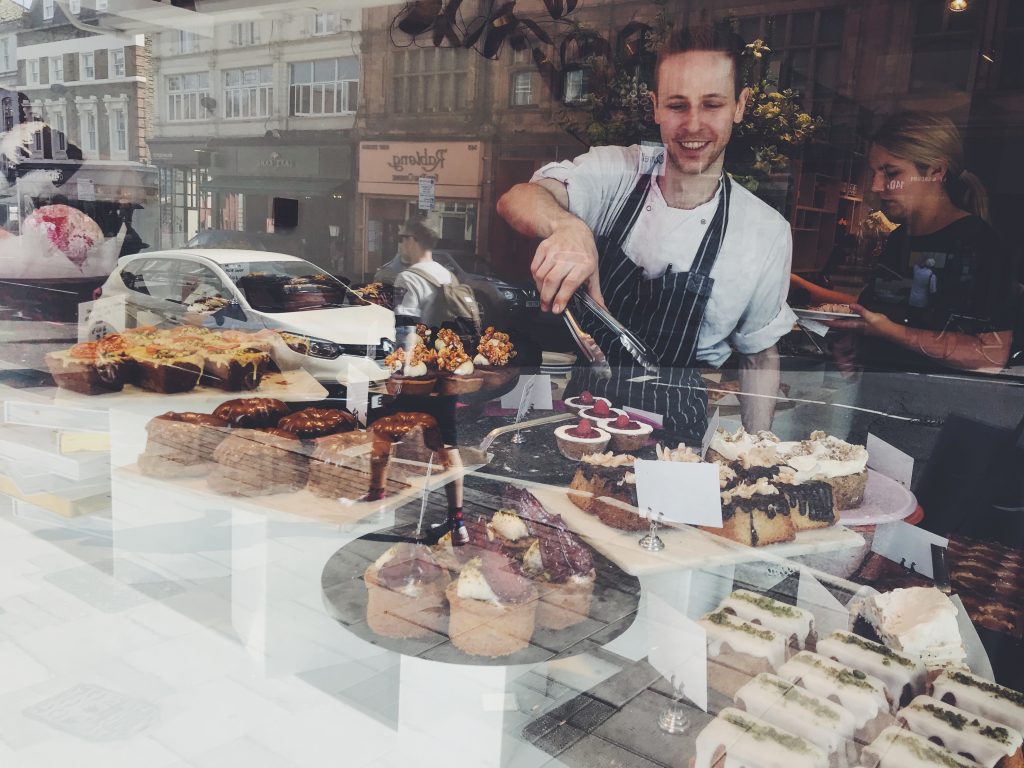 Ottolenghi Islington is both a deli and restaurant, which means people can come in and have a nice breakfast, lunch or dinner and they can also buy delicious sweets. It has a beautiful shopwindow display with all kinds of pastries and yummy things.

I was a bit nervous this morning as this was something new again. When should I leave? Should I walk, should I take the metro, should I combine both? In the end Kjell and I walked to the St. Pancras railway station, where we said goodbye and I continued my way to Islington by Metro. Which I regret! Every time when I take these insanely steep and long moving staircases I ask myself 'Why oh why??!!' (You see, I'm afraid of heights…) The ones to the Norhern Lines are the worst, and unfortunately these are the ones I have to take the most.


Anyway, I arrived exactly at 9h. I got welcomed by Jens and then followed the same procedure as in Nopi: got changed, washed my hands (the first time of thousands that day) and started.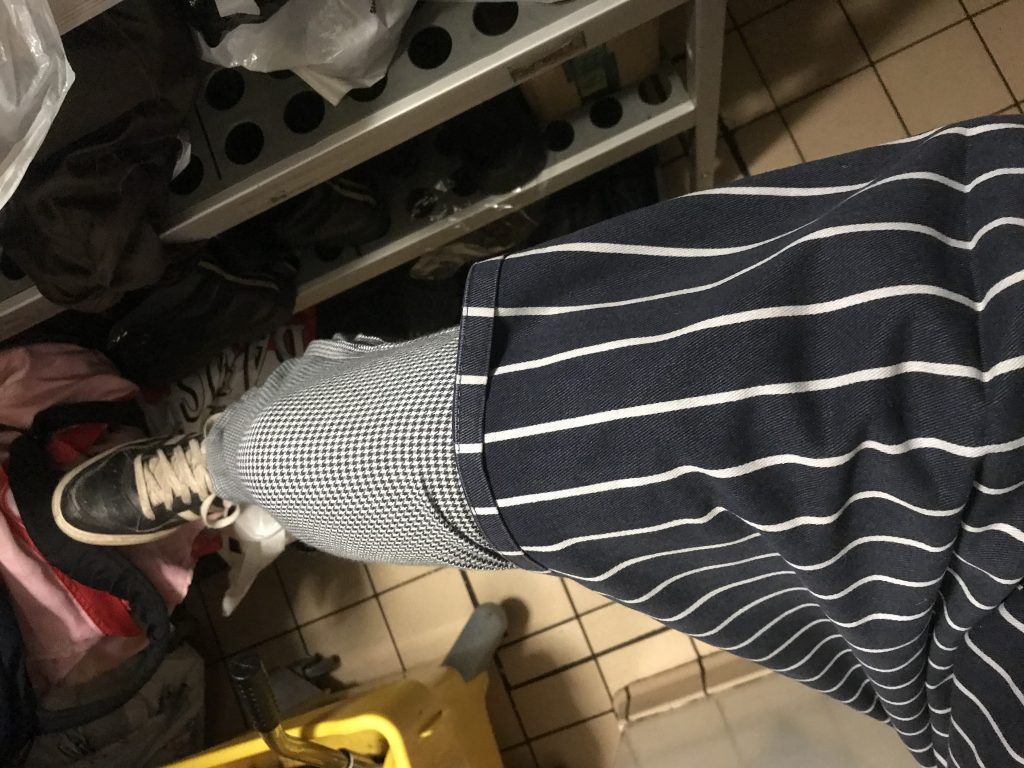 The outfit is different than that one in Nopi: the apron has stripes and the trousers are checkered (I have a friend who would go mad from this combination: you-do-not – never ever – combine-checks-with-stripes :0) On top on that, there was a big hole in it – yes, down under :0I – but these were the only trousers ones left. I hope nobody noticed (oh my).

Being in the kitchen of Ottolenghi Islington is a completely different expercience than in Nopi. It's not open and it's about half as big. So it feels more cramped. The pastry chefs have their own corner, which is pretty large compared to the rest of the kitchen. I think they are the lucky ones there…
Today there were Bank Holidays, which means the restaurant closed early. So there was less staff than usual. But I can imagine that it can get really 'cosy' there on other days.

Bank Holidays in combination with this amazingly beautiful weather made the restaurant not overcrowded. So I helped Jens, Hannah and Tim more prepping things for the upcoming weeks than do some actual baking. To be honest I hoped I could have baked a bit there, but I'm not complaining. I had a great time in that kitchen with this team. Jens is from Germany. I already followed him on Instagram. He's also known as the German Baker. I like his everhappy posts. When you have an offday, just check these and you'll forget what was bothering you. Hannah is from Australia and has been working there for about one year. Actually her plan was traveling the world, but this job just got thrown into her lap. How lucky one can be :0) Tim is from London and is rather new. He's a bit more shy than his collegues. He made today's muffins – I was a bit jealous of that. Muffins are my trademark! (or should be :0)
It's a great team to work with. They have lots of fun and one can tell they really love their job.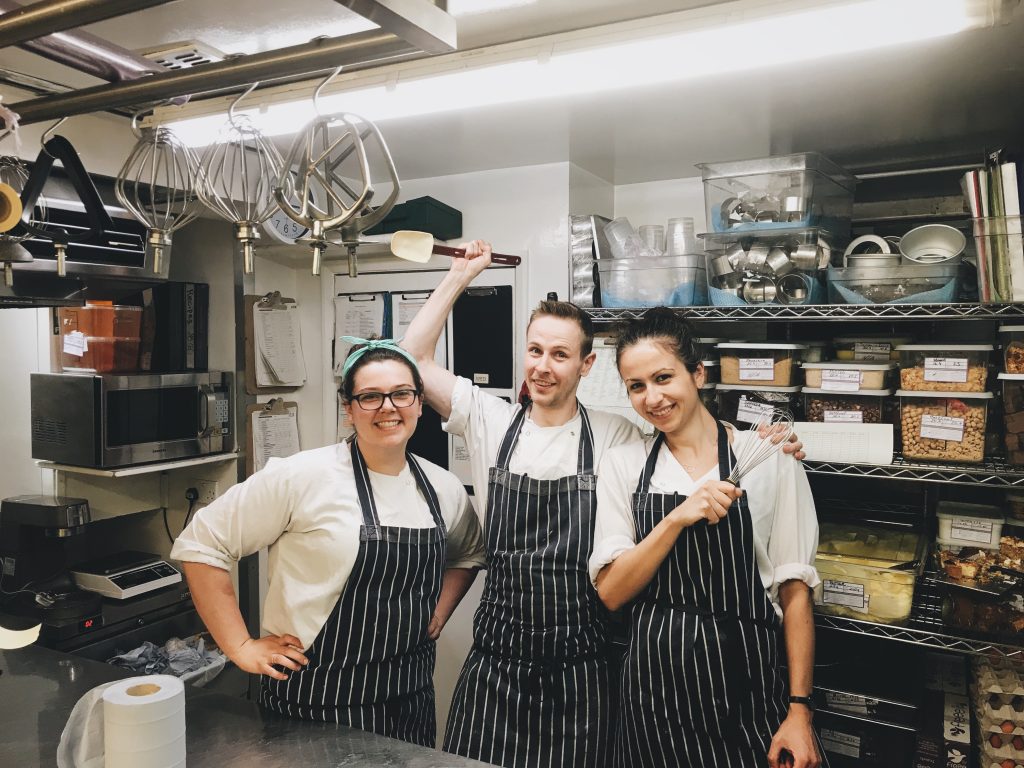 I started decorating some beautiful tartlets and cakes. You know, put some icing sugar, jam, fruit, ganache, … Jens made putting on the ganache look so easy. He wanted some large waves in it. Piece of cake I thought, seeing him doing it. But I was wrooong! While he got a nice peaceful sea-effect, I got a stormy shabby ocean. Not quite the desired result. But like it always does: practice makes perfect. In the end my sea was calmer, ready to be eaten easefully :0) Then I put everything on some nice plates which I then brought upstairs where it was displayed.
Chocolate cake with ganache

Persian love cake (I think – sometimes it's hard to remember everything :0/

White chocolate cheesecakes
Then I cleaned and cut some fruits and prepared them to go in the oven or to stove. I cut and blitzed nuts and made a crunchy nut topping. And of course I tasted a – lot. Remember I said I was underfed? Well, should I have lost some kilos, I am sure I gained double or more! But again, I am not complaining. There are worse things in life then eating Ottolenghi-sweets, don't you think?

They also serve breakfast in Ottolenghi Islington. The croissants, pains au chocolat and other puff pastry is prepared in a central bakery in Camden. Sometimes people ask me why I don't sell croissants or pains au chocolat. Well, this asks just too much time, preparation and planning. That's pretty hard to combine with my fulltime job. Today I got this explanation confirmed by Jens: when they need croissants on Friday, they have to order it on Monday: first, of course, the have to prepare the dough, then this has to rest, proof, rest, … and finally shaped.


In the most unlikely case there are leftovers, these are for the staff. I was lucky today (hooray for the sun)… I had some scrambled eggs, crumpets (never had these thick pancakes with holes befor – yummmmm), Mastelo cheese (something like haloumi – so good), pulled goat (sounds a bit weird, but I would definitely eat this again), some bread and a selection of sweets (need I say more?).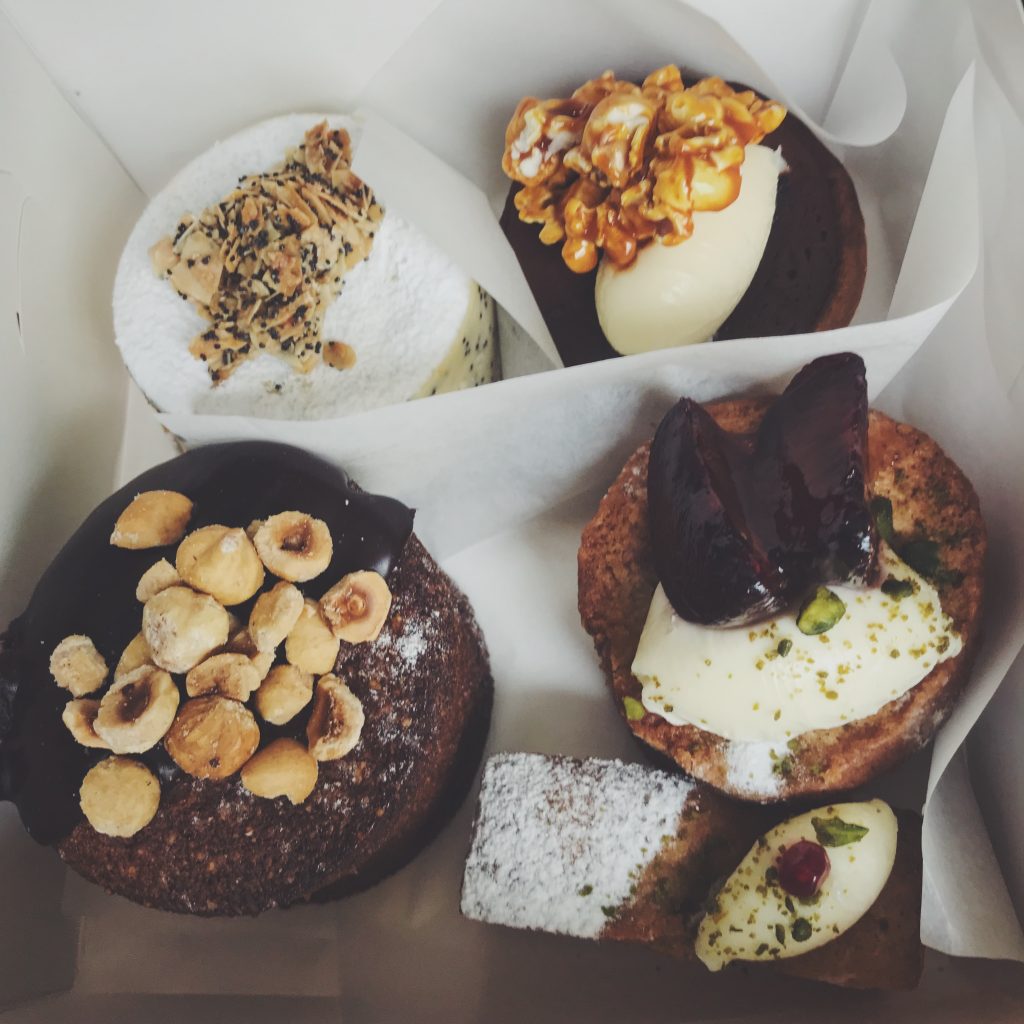 On top of that, Jens gave me five pieces of sweetness. Now I have breakfast for the whole week (Kjell has left too soon, I'm sure he'd appreciated one or two pieces :0)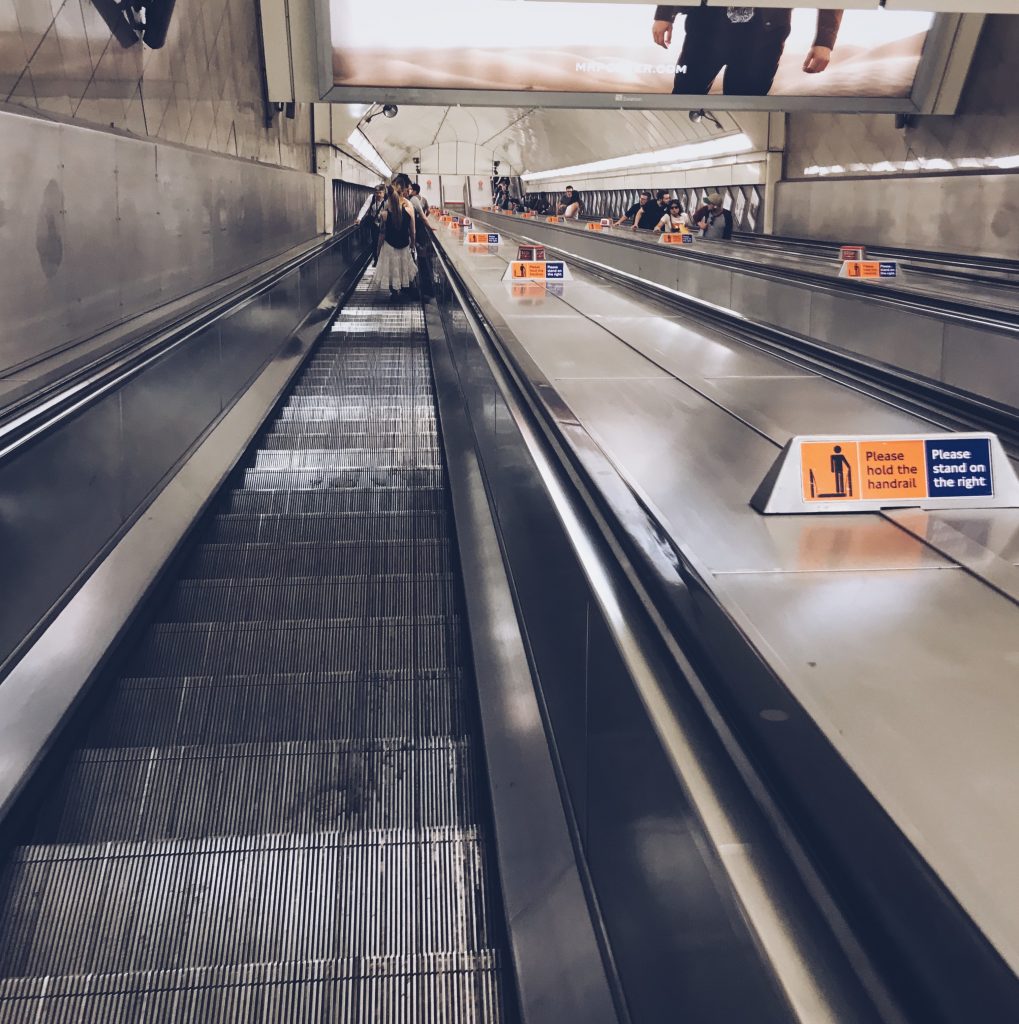 I ended my shift at about 15h. We took some pictures, I gave my business card (which would lead them to this blog :0) and then headed to my apartment, happy and satisfied.

(Again these freakin' moving staircases!)




In the late afternoon I went to Camden where I strolled trough the streets. I bought some souvenirs and ended my visit in Camden Market, known for the street food. Timing couldn't be better as I was hungry. If you know me, you wouldn't be surprised I circled that Market about a hundred times before I decided which food truck to pick. And even there I asked the nice owner which wrap he recommended. I had a really good spicy falafel wrap. If the sun keeps on shining, I'll certainly go back to try another exotic dish.


Strolling the streets in Camden

Looking for some food in Camden Market

Having a tasty falafel wrap
Oh, I completely forgot about Easter. So, a bit late, but I wish you all a happy Easter. With loads of chocolate en cute bunnies ^^