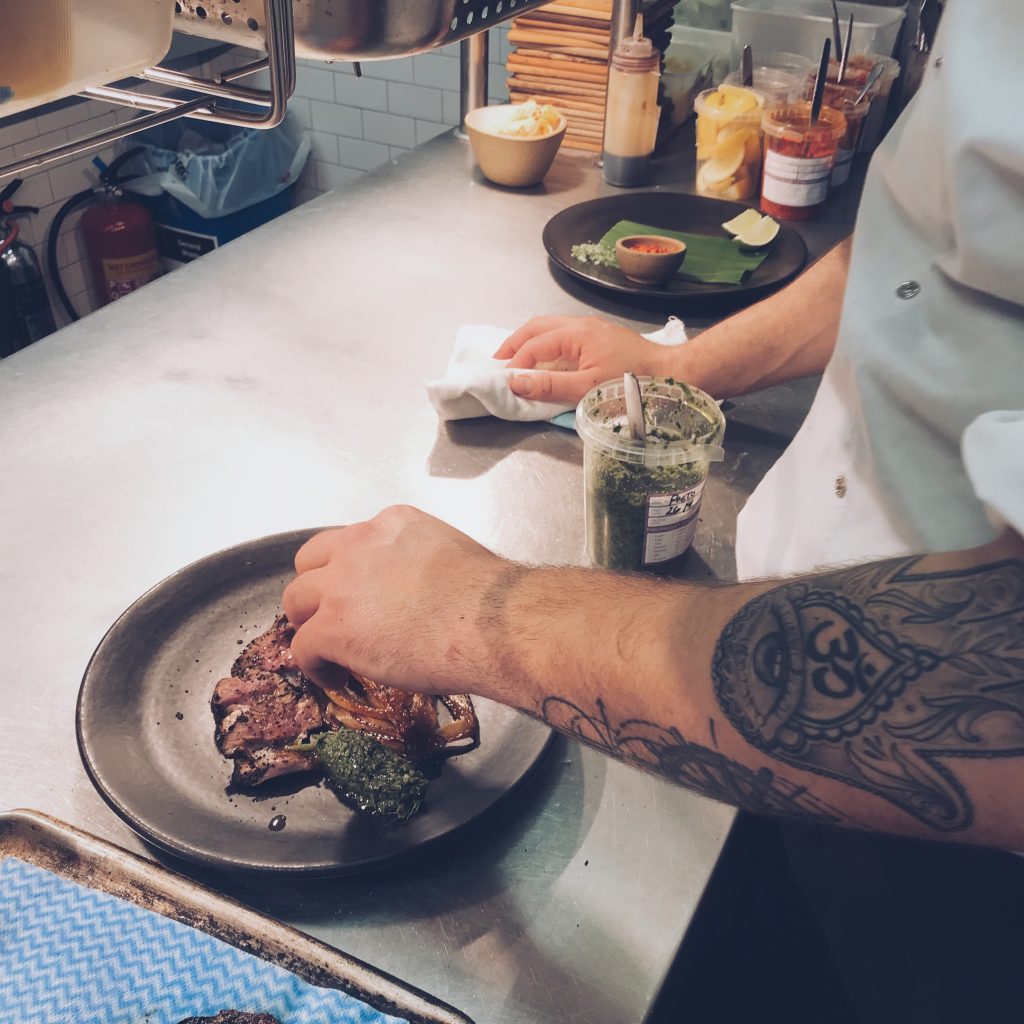 This morning I wanted to go back to Camden Town, to buy some presents maybe and have some street food, or go to Southbank to wander on the banks of the Thames. Wellll… It was neither of these.
I had null energy. I thought maybe a good breakfast with scrambled eggs would help. But nope. Still nada, nothing, noppes..  I decided to go back to my apartment and take a nap. I slept until 12, got up and had some streetfood from around the corner, a Beirut haloumi wrap (not the best ever). But nope, still null energy. So… back to bed. 

At 15:45 I dragged myself to Nopi. What's wrong with me!!??  (I know what's wrong with me: when I have evening shifts, I don't eat well. No vegetables, no fruit, nothing healthy. That's what's wrong with me. A lack of everything…)
Once arrived in Nopi I got myself together and started my shift. `

– I have to think really hard now to remember what I did today –


…

I really do…  (although I've been busy the whole time, and I really enjoyed every single thing of it…)

Ok.. 
I started helping Marco peeling prawns. It was the last thing we did together, as his shift was over, and he's off for the weekend. I'll miss that horrible English (sorry Marco :0p
We said goodbye with a hug and off he went. But we're facebook friends now :0) And whenever he'll visit Belgium, we'll meet again (of course we all know this isn't going to happen. That's how goodbyes always go, right? Although I really would like that).

Today was also the last time I'd seen Francis. In the late afternoon he went home, so it was time to say goodbye. I'll miss that mysterious look of him… It was a pleasure meeting him.

To ease the pain, I prepared the new version of the beetroot salad. Made it pretty :0)
Then I prepared the feta-yoghurt for the aubergine salad. I think I used as much feta as I have seen in my whole life. And believe me – with a Greek father, who – on top of that – also sold feta, I have seen á-lót-of feta. (ok, now I'm exaggerating a bit, but you know what I mean).
Then I prepared a ton of cardamom yoghurt, and learned how to make the rad prik they serve with the pork belly.
Everything is prepared by taste. There is a recipe for the base, but the tuning still has to happen while making it. This requires a lot of tasting during the day. Today I made many different sauces, and I was a bit 'oversauced' by the end of my shift.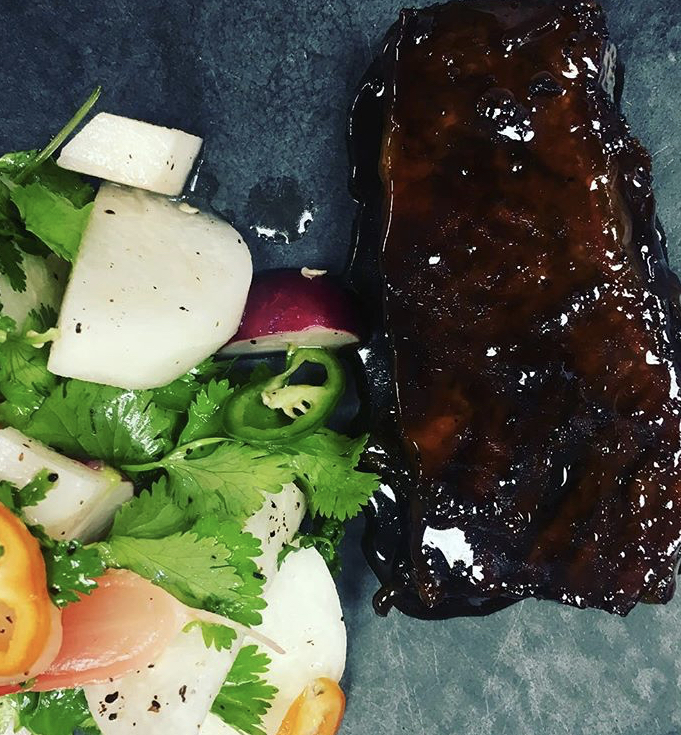 Carlos was there today, working on the new recipe 'Lake District Beef Short Ribs, Jicama, pickle radish'. He came to me and asked if I had ever heard of Jicama. No I hadn't… I followed him and tried some. It's some kind of root and tastes a bit like radish and is really crunchy. I'm not sure yet what to think about it, if I just eat it like that. But then he let me taste a prepared peace of it, and I must say I really liked it that way. He'd serve it with short ribs, I also tried. The meat was so soft?! Really good. Carlos wasn't still entirely convinced, but he knew what and where to tune. So… new delicious dish coming up! Test kitchen: succeeded :0)





The other day, chefs from a Michelin star restaurant told me they had to sport a lot to stay fit and slim because they have to taste a lot. Now I know exactly what they mean. Today I tasted lots of sauces to tune them, I tried some of the new dish they are working on… And that's only in my role as a stagiair. I can imagine that when you constantly innovate, try new things, you eat a lot. Little pieces each time, but in the end, you've eaten 5 meals, without being aware of that. Tricky job, being a chef…

I also joined Paco some time in the meat section. That's a part of the so called hot line, just like vedge and fish section. I didn't need a lot of time to figure out why it's called the hot line. My god, I only spent there like half an hour, but I was melted already. These guys are there during the whole shifts, hours and hours. Respect!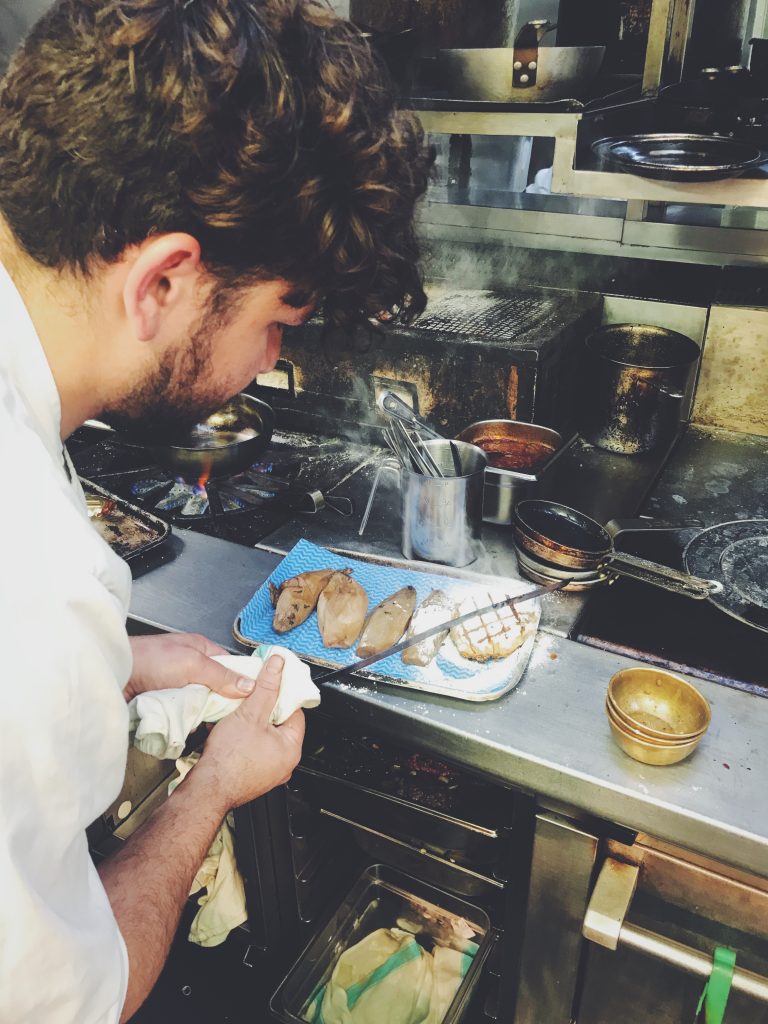 In the meat section they prepare 5 plates: mutton pastilla, bavette, lamb, pork belly and chickpea pancake (which isn't meat, but they had to divide the warm dishes over de hot line). Paco showed me everything with lots of patience (did I already mention that I like him ;0)
Bavette with shiitake ketchup

Chickpea pancake

Lamb with urfa chili and chicory
Oh, remember I brought some dough from the sourdough bread course? I baked it in Nopi today… The result? I think a 2 days rest was too much. Plus, I took it out of the oven too soon, it was still blobby inside. I think the difficulty of baking sourdough bread is that you have to bake it in a really hot oven, so it blackens pretty fast. But it's not because the bread is black, that it's ready. Witness today's underbaked but black bread. I don't have a picture of it, but you're not really missing something.

I can't believe tomorrow will be my last day. Time went by too fast.

So I'd better go to sleep now, if I'd like to experience my last day alive and kicking.